Product List
CENTURY Superb EXL 40 + SG-CF TBN 22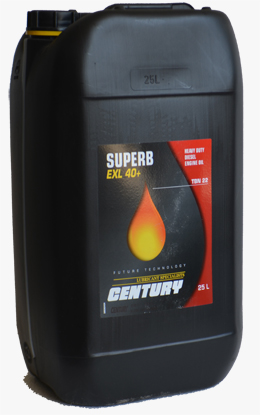 Description
High performance HIGH TBN lubricant for diesel engines with or without turbo compressor
Application
CENTURY SUPERB EXL 50+ has been developed for countries where sulfur content is niesel is above 0.5% (5000 ppm). It is recommended for engines with or without turbo compressor. It can be used in a large variety of application such as trucks, earth moving equipment, tractors, gen sets, marine applications and also in gasoline engines for which mono-grade lubricant isrecommended. CENTURY SUPERB EXL 40+ is suitable to work under severe conditions and for extend oil services.
Specifications
API CF/SG
Performance Level
MB p228.0
CATERPILLAR TO-2
VOLVO VDS
MAN 270
SCANIA
PERKINS
MIL-L-2104E
Features and Benefits
• TBN 22 to fight against acidity generated by high sulphur content diesel combustion
• Strong detergent and dispersing agent to ensure perfect engine cleanliness, and increase engine life
• Reinforced anti wear properties
Excellent thermal stability and resistance to oxidation.
• Extended oil drain intervals even in sever conditionsrvals even in sever conditions
Technical Characteristics
| | | |
| --- | --- | --- |
| | UNIT | VALUE |
| SAE grade | | 40+ |
| Specify gravity @20 C | kg/m3 | 898 |
| Kinematic Viscosity @ 40 Cscosity | mm2/S | 209 |
| Kinematic Viscosity @ 100 Ccosity | mm2/S | 20 |
| Viscosity Index | C | 108 |
| Flash Pointd | C | 246 |
| TBN | mg KOH/g | 22 |