Product List
CENTURY CENTURION SUPER 15W40 CI - 4 TBN15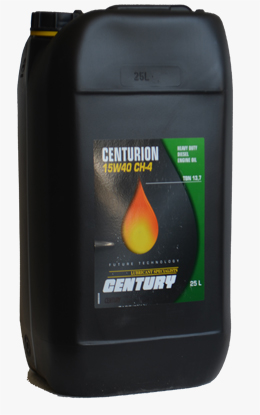 Description
Long life Lubricant with TBN15, made with MC base oils for use in turbocharged diesel and gasoline engines.
Application
CENTURY CENTURION SUPER 15W40 CH - 4 TBN15 has been developed for the countries where sulphur content in diesel is above 0.5% (5000 ppm). It is recommended for any diesel engine turbocharged ot not, up to EURO IV, with or without EGR(Exhaust Gas Recirculation). It can be used in trucks, earth moving equipment, tractors, gen sets, fish boats etc. It is suitable for the most severe utilization.
The high stability of the anti-oxidation and the detergency additivies allows considerably greater oil change intervals compared to classical lubricants.
Specifications
API CH-4/SL
ACEA E7,A3/B4
GLOBAL DHD-1
Performance Level
MB p228.1- CATERPILLAR ECF-1-A/ECF-2/TO-2 -CUMMINS 20071/2/6/7/8- DAF- DEUTZ DQC III - IVECO 18-104 CLASSE T2 E7 - MACK EO-N PLUS - MAN M3275-1 - MTU DDC TYPE2 - NH330 H - RENAULT RLD/RLD2 - VOLVO VDS-3 - ALLISON C4 - STEYR A-201 - CASE MS 1121
Features and Benefits
• TBN 15 to fight against acidity generated by high sulphur content diesel combustion.
• Strong detergent and dispersing agent to ensure perfect engine cleanliness, especially pistons
• Excellent anti-wear properties to increase engine life
• Extended oil drain intervals even in sever conditions
Technical Characteristics
| | | |
| --- | --- | --- |
| | UNIT | VALUE |
| SAE grade | | 15W40 |
| Specify gravity @20 C | kg/m3 | 876 |
| Kinematic Viscosity @ 40 Cscosity @ 40 C | mm2/S | 109 |
| Kinematic Viscosity @ 100 Ccosity @ 100 C | mm2/S | 15 |
| Viscosity Indexiscosity Index | C | 140 |
| Flash Pointd">Flash Point | C | 230 |
| TBNght: bold">TBN | mg KOH/g | 15 |